September 7, 2023 4:09 pm
Leave your thoughts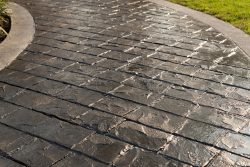 If you're looking to elevate the style and functionality of your outdoor space, stamped concrete is an excellent option to consider. Stamped concrete is a versatile and cost-effective material that allows you to create beautiful and unique designs. In this blog post, we will explore 5 design ideas for stamped concrete to inspire your next outdoor project.
1. Cobblestone Pathways
One popular design idea for stamped concrete is creating cobblestone pathways. This design can add a touch of elegance and charm to your outdoor space. The stamped concrete can be colored to replicate the natural hues of cobblestone, and the texture can be enhanced to provide a realistic look and feel. Cobblestone pathways are perfect for gardens, leading up to your front door, or surrounding a patio area.
2. Wood Plank Patios
If you love the look of wood but prefer the durability and low maintenance of concrete, a wood plank stamped concrete patio is a fantastic choice. This design idea allows you to achieve the aesthetics of a wooden deck without the drawbacks of rotting, warping, or termites. With the right stamping techniques and color choices, you can create a patio that mimics the appearance of real wood, complete with realistic grain patterns and textures.
3. Tile-Inspired Pool Decks
Transforming your pool deck with stamped concrete can completely change the ambiance of your outdoor space. Consider creating a tile-inspired pool deck with stamped concrete for a luxurious and sophisticated look. This design idea allows you to recreate the patterns and colors of various types of tiles, such as ceramic, porcelain, or natural stone. The stamped concrete pool deck will not only enhance the visual appeal of your pool area but also provide a safe and slip-resistant surface.
4. Flagstone Driveways
Enhance your home's curb appeal by opting for a flagstone stamped concrete driveway. Flagstone is a popular choice for driveways as it provides a timeless and classic look. With stamped concrete, you can achieve the same look and texture of natural flagstone at a fraction of the cost. The versatility of stamped concrete allows you to customize the color, shape, and size of the "stones" to create a driveway that complements your home's architectural style.
5. Ashlar Patterned Patios
For a more contemporary and geometric design, consider an Ashlar patterned patio. The Ashlar pattern consists of a mix of rectangular and square shapes that can be arranged in various configurations. This design creates a visually appealing and modern patio surface. The stamped concrete can be colored to match and enhance the surrounding landscape or outdoor furniture. An Ashlar patterned patio is an excellent option for those looking to achieve a sleek and sophisticated outdoor living area.
When it comes to stamped concrete, the design possibilities are endless. Whether you're looking for a rustic appearance, a traditional vibe, or a modern aesthetic, there is a stamped concrete design that can perfectly suit your taste and style. Remember to choose colors and patterns that complement your existing outdoor elements, such as landscaping, architecture, and furniture. Consult with a professional concrete contractor to ensure that your stamped concrete project is executed flawlessly and to your satisfaction.
Conclusion
Stamped concrete is an excellent choice for any outdoor project, offering versatility, durability, and affordability. Consider these 5 design ideas – cobblestone pathways, wood plank patios, tile-inspired pool decks, flagstone driveways, and Ashlar patterned patios – to transform your outdoor space into a stylish and functional oasis. With stamped concrete, you can achieve the look you desire without compromising on quality or breaking the bank.
Got Questions? Let Us Help!
Welcome to Kwiatkowski Construction Co., Inc.! Kwiatowski Construction Co., Inc. is a family-owned business that has been servicing customers in Crivitz, Wisconsin since 1977. We have 40 years of experience in the concrete contracting industry. We are also a fully insured and licensed concrete contractor. Kwiatowski Construction Co., Inc. will provide free estimates on site, or over the phone. We are able to receive photos through fax and through email. If you have any questions or concerns, please give us a call today!
Categorised in: Stamped Concrete
This post was written by admin