September 1, 2023 4:09 pm
Leave your thoughts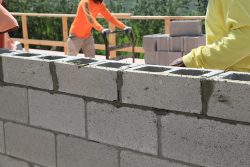 When it comes to choosing a concrete contractor for your upcoming project, it is crucial to select a reliable and skilled professional. The quality of your concrete work can significantly impact the durability and aesthetics of your project. To help you make an informed decision, we have compiled a list of the top 10 tips for choosing the best concrete contractor.
1. Research and Verify Credentials:
Start by researching potential concrete contractors in your area. Look for companies with a proven track record, positive customer reviews, and a portfolio of completed projects. Ensure that the contractor is licensed, insured, and certified by relevant industry associations. Checking their credentials will provide you with peace of mind and ensure that they meet professional standards.
2. Experience Matters:
Selecting a contractor with extensive experience in concrete work is essential. Experienced contractors have encountered various challenges throughout their careers, allowing them to anticipate and tackle potential issues efficiently. A seasoned contractor is more likely to deliver high-quality results and handle unexpected situations with ease.
3. Portfolio of Past Projects:
Reviewing a contractor's previous projects can give you a glimpse into the quality of their work and versatility. Ask for a portfolio showcasing projects similar to yours, such as driveways, patios, or foundations. Pay attention to the attention to detail, finish, and overall visual appearance of the completed work.
4. Ask for References:
Don't hesitate to ask the contractor for references from previous clients. Contacting their past customers and discussing their experience can provide valuable insights into the contractor's professionalism, reliability, and ability to complete projects within the agreed-upon timeframe.
5. Get Multiple Quotes:
Obtain written estimates from multiple contractors before making your final decision. While cost should not be the sole deciding factor, it helps to have a clear understanding of how different contractors price their services. Be cautious of unusually low bids, as they may not include necessary materials or indicate lower quality workmanship.
6. Understand the Timeline:
Discuss the project timeline thoroughly with potential contractors. A reliable contractor should be able to provide a rough estimate of how long the project will take to complete. It is crucial to ensure that the contractor's availability aligns with your expected timeline to avoid any delays or conflicts.
7. Communication is Key:
Effective communication is vital throughout the entire project, from initial consultation to completion. Choose a contractor who is attentive, responsive, and communicates clearly. You should feel comfortable discussing your project specifications, asking questions, and receiving updates on progress.
8. Insurance Coverage:
Before hiring a concrete contractor, verify that they have adequate liability insurance coverage. This insurance protects you in case of any accidental damage to your property or injuries that may occur during the project. Confirm their coverage limits and make sure they are up to date.
9. Collaboration and Problem-Solving:
Look for a contractor who is willing to collaborate and find solutions to any challenges that arise during the project. A good contractor will work with you and offer suggestions to improve your project's outcome while respecting your vision and preferences.
10. Contract and Warranty:
Always get a written contract that outlines the project details, start and completion dates, payment terms, and any warranties provided. Ensure that the contract clearly states the scope of work, material specifications, and any guarantees or warranties offered by the contractor. Review the contract thoroughly and clarify any doubts before signing.
Conclusion:
Choosing the best concrete contractor is vital to the success of your project. By following these top 10 tips, you can maximize the chances of selecting a reliable, experienced, and skilled professional. Investing time and effort into finding the right contractor will result in a high-quality concrete project that stands the test of time.
Got Questions? Let Us Help!
Welcome to Kwiatkowski Construction Co., Inc.! Kwiatowski Construction Co., Inc. is a family-owned business that has been servicing customers in Crivitz, Wisconsin since 1977. We have 40 years of experience in the concrete contracting industry. We are also a fully insured and licensed concrete contractor. Kwiatowski Construction Co., Inc. will provide free estimates on site, or over the phone. We are able to receive photos through fax and through email. If you have any questions or concerns, please give us a call today!
Categorised in: Concrete Contractors
This post was written by admin