October 1, 2023 10:24 pm
Leave your thoughts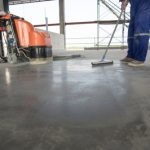 When it comes to your driveway, the choice of concrete finish can greatly impact the overall appearance and functionality of the space. With a variety of concrete finishes available, it can be overwhelming to decide which one is best for your specific needs. This guide will help break down the different types of concrete finishes and assist you in selecting the right one for your driveway.
1. Broom Finish
The broom finish is one of the most popular choices for driveways due to its affordability and slip resistance. It involves using a broom to create a textured pattern on the surface of the concrete. This texture not only adds visual interest but also provides better traction, especially during wet or icy conditions. Broom finishes are low-maintenance and can withstand heavy traffic, making them a practical option for driveways.
2. Exposed Aggregate
If you are looking for a more decorative and visually appealing finish, exposed aggregate may be the right choice for your driveway. This finish is achieved by removing the top layer of concrete to reveal the underlying aggregate (stones, pebbles, or decorative rocks). Exposed aggregate driveways are known for their unique and textured appearance, and they can be customized by choosing different types and sizes of aggregate. Keep in mind that exposed aggregate driveways may require periodic sealing to maintain their visual appeal.
3. Stamped Concrete
For homeowners who want to enhance the aesthetic appeal of their driveway, stamped concrete is an excellent option. Stamped concrete involves imprinting patterns or textures onto the surface of the concrete using specialized stamps. This allows you to mimic the look of other materials like stone, brick, or even wood without the high cost and maintenance. Stamped concrete driveways can add a touch of elegance and sophistication to your home, and the patterns can be chosen to complement your existing landscaping or architectural style.
4. Colored Concrete
If you want to add a pop of color to your driveway, colored concrete allows you to do just that. Unlike traditional gray concrete, colored concrete is achieved by adding pigments or dyes to the concrete mixture before it is poured. This allows you to choose a shade that complements your home's exterior or matches your personal style preferences. Colored concrete driveways can be a great way to make a statement and enhance curb appeal.
5. Stained Concrete
If you prefer a more natural look and want to add depth and character to your driveway, stained concrete is an excellent choice. Stains penetrate the concrete surface, creating rich, translucent hues that complement the existing color and texture of the concrete. Stained concrete driveways are available in a wide range of colors and can be customized to create unique and eye-catching designs that will make your driveway stand out.
Conclusion
Choosing the right concrete finish for your driveway is essential for achieving the desired aesthetic appeal and functionality. Whether you prefer a traditional broom finish, a decorative exposed aggregate, the elegance of stamped concrete, the vibrancy of colored concrete, or the natural beauty of stained concrete, there is a finish that will suit your needs. Consider the overall style of your home, your budget, and the level of maintenance you are willing to undertake. With the right concrete finish, your driveway can become a stunning focal point that adds value and curb appeal to your property.
Got Questions? Let Us Help!
Welcome to Kwiatkowski Construction Co., Inc.! Kwiatowski Construction Co., Inc. is a family-owned business that has been servicing customers in Crivitz, Wisconsin since 1977. We have 40 years of experience in the concrete contracting industry. We are also a fully insured and licensed concrete contractor. Kwiatowski Construction Co., Inc. will provide free estimates on site, or over the phone. We are able to receive photos through fax and through email. If you have any questions or concerns, please give us a call today!
Categorised in: Concrete Finish
This post was written by admin